We aim to assist students to build up a strong foundation for their studies and future career. Apart from offering individual counseling and group activities, we also organise various seminars to enhance the students' understanding of education, employment and the workplace.
●
We have the vision to meet the actual needs of the students and the development of our school. We hope to establish our unique school-based "career education" gradually in the near future. Career education stresses to bind the content and course of career counseling through various learning activities so as to help students develop personal career plan.
●
The preliminary goal of "career education" is to help students explore, discover and develop themselves in order to achieve self-realization and continue to better themselves.Students at the school are involved in a variety of learning activities that are closely coordinated the development of the students' future career.Teachers of different areas should emphasize the importance of theses activities in the career development for students. Students can thus utilize their potential and social resources, improve career planning and lifelong learning, so that they can further adapt to the rapid changing social environment and create a better personal life.
●
The implementation of career education in secondary education can be divided into four main stages: self and career awareness, career exploration, career orientation and career preparation. The contents include:



Self- awareness
Understanding the Careers and Job Opportunities
What is career?
Learn how to achieve ideal career path and the methods
Master basic work-related skills, such as: job interview, etiquette, time management, etc.
Establish the correct attitude and values
Construct personal ideal career
Work-related learning experiences
| | |
| --- | --- |
| ● | Help students understand their own expertise, ambition and ability, so that they can make effective and correct careers choices. |
| ● | Assist students cultivate active learning, work and life attitude in order to educe their potential for continuous improvement. |
| ● | Widen students' vision about the world of work and education opportunities. |
| ● | Encourage and motivate students to spontaneously gather further studies and employment information. |
| ● | Guide students to make careers decisions and encourage them to make personal decisions voluntarily. |
| ● | Collect, process and provide the latest career information for all students, parents and teachers. |
| ● | Collaborate with all colleagues and parents to hold careers activities. |
| ● | Establish a school-based career education model which includes large-scale careers guidance activities, individual counseling and business indicators and a viable career counseling program. |
2023 – 2024
2023-09-16
Summer English Enrichment Course Sharing Session [Video]
2021 – 2022
2021-11-03
Sharing by Mr Cleo Man-Oi Ng Video
2021-11-27
VTC Admission Talk Video
2021-10-19
HKU Admission Talk Video
2021-09-29
S.6 JUPAS Talk and Alumni Sharing Video
2020 – 2021
2021-06-25
Pre-DSE Result Release Talk Video
2021-04-17
How to choose electives wisely Video
2021-01-13
A briefing on Applied Learning Courses Video
2020-12-11
S.6 Talk on Multiple Pathways Video
2020-11-11
HKU Admission Talk Video
2020-10-21
VTC Admission Talk Video
2020-09-26
S.6 JUPAS Talk and Alumni Sharing Video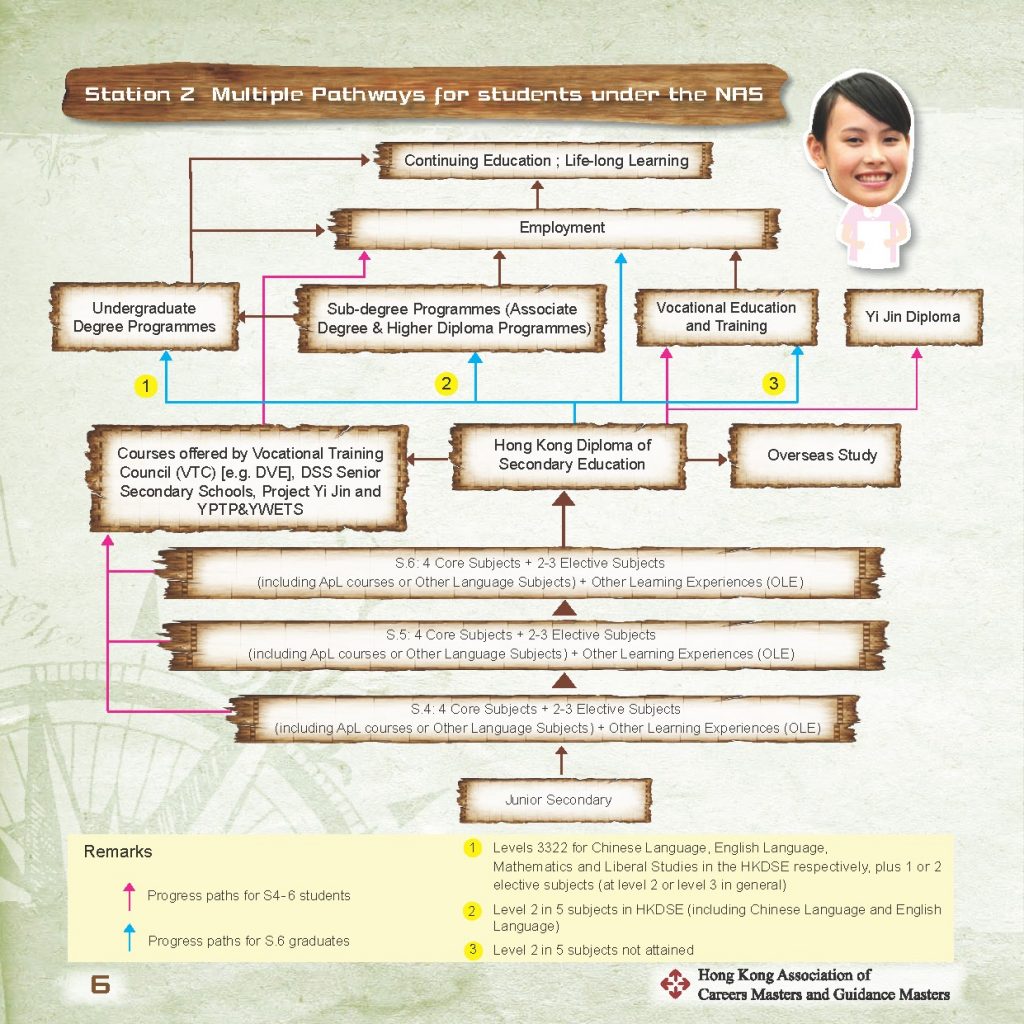 F.4 Subject Selection Criteria
CRITERIA
Choosing the right elective subjects is very important for all F.3 students. We have some useful advice to make sure you make the best choices.
1. Interest
Interest helps to sustain perseverance and do well in studies. Ask yourself before you make the decision, "How far do I enjoy the subjects taken so far? What subject do I like to study? Science, art or business?" Make decisions only after thoughtful consideration.
2. Ability
Choose the electives that you can handle. Therefore, consider these questions carefully before choosing your elevtives:

How well do I preform in each sibject?
Which subject do I find easy to cope?
Which subject do I find difficult?
How well can I predict myself to do well in the new subjects?

3. Advice from family, friends or teachers
Seek advice from your parents, friends or teachers as they know you well. You can attend talks to get more information about further studies. You should also try a personality test to know more about yourself so that you can choose the electives that you are interested in.
4. Environmental factors
Consider whether you have adequate financial support from your family for you to pursue continuing education in the electives that you have chosen.
5. Aspiration
Have you deeply examined your aspirations? To mark your first point towards success, you should set goals for your future and evaluate if the chosen electives will help you achieve your goals.
6. Personality
Your personality affects your interests and abilities. For example, if you love to use rational methods to investigate the human world, you should choose humanities subjects. Science subjects are suitable for students who love investigating and solving problems. It is important to choose the electives that fit your personality.
YOU SHOULD AVOID THINKING:
●
Although I have a bad performance in this subject, I am interested in studying in.
●
I like the subject teacher. I want to attend his lessons.
●
My friends all choose business subjects. I want to choose these subjects too./td>
●
I will go to study overseas very soon. I don't need to choose my subjects carefully now.!
●
I just want to choose some easy subjects.
●
I am not good at any subjects. It doesn't matter even if I choose randomly.
●
I am not interested in science but studying science will help me find a good job in the future.
●
Selecting elective subjects is a personal event, advice from parents or teachers can be ignored.
VTC Programmes (Chinese ONLY)
職業訓練局(VTC)課程 http://www.vtc.edu.hk/studyat/tc/
職專證書
課程設三大專業範疇,部分課程更設有分流,讓學生可配合自己的興趣,選擇合適專業,發揮所長。 詳情請參考http://www.vtc.edu.hk/admission/tc/programme/s3/diploma-of-vocational-education/
中華廚藝學院
中華廚藝學院為有志入行人士及在職廚師提供由初級至大師級有系統的中廚訓練。 詳情請參考http://www.cci.edu.hk/cci/html/tc/index.html
旅遊服務業培訓發展中心
旅遊服務業培訓發展中心 (前身為酒店業訓練中心) 由酒店、飲食及旅遊業訓練委員會成立;提供酒店實務訓練予本港的青年。培訓發展中心分別於九龍灣及薄扶林設立訓練中心,一切訓練設施依照國際水準的酒店及餐廳而設計。提供的課程包括西式廚務、西式飽餅、飲食、客務、房務、導遊及卓越服務文化課程,與及有關行業的督導管理課程等。 詳情請參考http://www.vtc.edu.hk/vtc/web/template/about_the_centr.jsp?fldr_id=502
職業發展計劃
職業訓練局於2004年,開展了一項「職業發展計劃」,為待學青少年提供訓練機會,目的為: 1) 激勵學員發展正面的態度、責任感、重建信心及自尊心; 2) 鼓勵學員學習職業訓練課程或返回主流教育;和 3) 提高學員的就業能力,包括參加學徒/見習員訓練計劃。 職業發展計劃銜接三個領域: 1) Teen才再現 (前稱見聞樂學) 2) 青年內地見習計劃 3) 現代學徒計劃 詳情請參考http://www.vtc.edu.hk/vdp/
ORGANISATION
TEL. NO.
HOTLINES AND SERVICE HOURS
TARGET GROUP AND SERVICE BOUNDARY
The Hong Kong Federation of Youth Groups – Counseling Centre
2788 3433
2788 3444
2777 8899
Interview counseling service
Emotional health, relationships and sex, learning difficulties as well as media literacy
Hong Kong Association of Careers Masters and Guidance Masters
2399 2186
 
升學資料查詢、升學問題解答
Careers Advisory Service, Labour Department
2385 2044
2399 2241
2717 1771
Career conselling and information
Student Conselling Centre,
Hok Yau Club
2578 5111
2503 3399 (3 lines)
on Mon, Wed and Fri : 1900-2100
Studies and careers information, exam skills
Counselling & Hotline Service
YWCA
2715 7647
2711 6622
From Mon to Fri : 1900-2100
Studies and career, relationships and family conselling
The Samaritan Befrienders
Hong Kong
2790 8844
2398 2222
24 hours
Emotional counselling
生命熱線
The Samaritans
2804 2813
2832 0000 (Cantonese)
24 hours
Emotional counselling
Breakthrough
2632 0145
2632 0146
2317 0733
Everday : 1630-1930
Interview counseling service for secondary student
fee : $50 / 50 minutes
Personal growth, studies, relationships and sex
H.K.S.K.H. Counselling Service
2713 9174
2521 3457
 
Emotional and mental health, studies, career, relationships
Family Service Centre
Hong Kong Christian Service
2731 6251
2454 1236
From Mon to Fri : 0845-1730
Children, teenagers and their families
Yang Memorial Methodist Social Service
2171 4222
Mon, Wed, Thurs and Fri : 0900-1730
Tue : 1245-1730
Individuals and families
Career Guidance
EDB
2399 2184
2891 0088
Local and overseas studies, scholarship information
Central Health Education
Department of Health
2835 1835
2835 1825
2833 0111
 
School Social Work Service,
Social Welfare Department
2322 7735
2322 7875
2343 2255 (24 hours)
Seconday students and parents
If you have any queries about further studies, please do not hesitate to contact us:
Ms Chan Ching Han
Ms Lai Siu Ngai
Ms Law Lai To